Ref:
Date:
Location:
Photographer:
Ref:
Date:
Location:
Photographer:
Chapeltown Carnival,Leeds, 2013
Photographs of the Chapeltown Carnival is 'THE' premier West Indian carnival in the northern UK. It features an array of brightly coloured and interesting floats and performance groups. For me however, the real interest is to be found by turning my camera on the crowd.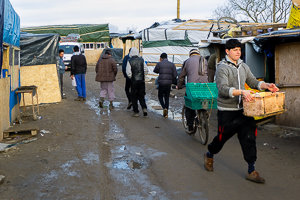 Photos taken in and around the Calais migrant camp, commonly known as The Jungle.
Most of the images were taken in the southern half of the camp which was demolished by the authorities about two weeks...
Click here to see photos
Street photography in Leeds, West Yorkshire. 2008 to 2017...
Loiner: Noun (plural loiners)
(UK, colloquial)
A citizen of Leeds, England
A collection of my photographs taken in the streets of Leeds over the past decade, as featured in the photobook 'Loiners'.
Click here for the gallery
...