Ref:
Date:
Location:
Photographer:
Ref:
Date:
Location:
Photographer:
A Lunchtime in The Templar Hotel
Photographs documenting a typical lunchtime in a Leeds city centre pub.
Situated on the corner of Templar Street and Vicar Lane, The Templar Hotel is a traditional Leeds hostelry.
Its stained glass windows and wood panelled interior add a great deal to its atmosphere, but what really defines the pub are its customers; people who choose to spend their time there. My intention was not just to photograph the building, but to capture the flavour of the life which goes on within its walls.
The images hopefully stand for themselves and require no explanation. Do not be put off by the lack of smiles in some of the pictures. Like me, these are Yorkshire-men (and women). The humour was quick, dry, but always friendly.
Thanks to Ian the licensee, and the customers for allowing me to take these photos.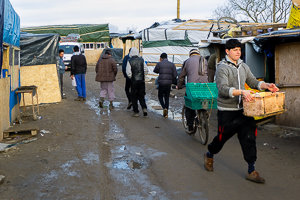 Photos taken in and around the Calais migrant camp, commonly known as The Jungle.
Most of the images were taken in the southern half of the camp which was demolished by the authorities about two weeks...
Click here to see photos
Street photography in Leeds, West Yorkshire. 2008 to 2017...
Loiner: Noun (plural loiners)
(UK, colloquial)
A citizen of Leeds, England
A collection of my photographs taken in the streets of Leeds over the past decade, as featured in the photobook 'Loiners'.
Click here for the gallery
...