Ref:
Date:
Location:
Photographer:
Ref:
Date:
Location:
Photographer:
Malham Cove - Britain's Highest Waterfall
Malham Cove is a 300 foot (90m) high limestone cliff, situated close to the North Yorkshire village of Malham.
It is believed that at the end of the last ice-age water flowed over the striking feature in a huge cascade. When the glaciers retreated and the ground beneath thawed however, the river which had fed the waterfall, found an alternative route through underground fissures in the limestone.
The Cove has therefore remained 'dry' ever since, until the 6th December 2015 that is; when following extremely heavy rainfall in the North of England, the Cove once again (temporarily) became the UK's highest free falling waterfall.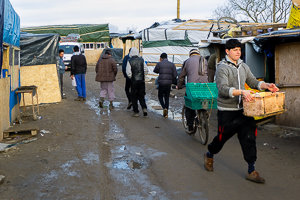 Photos taken in and around the Calais migrant camp, commonly known as The Jungle.
Most of the images were taken in the southern half of the camp which was demolished by the authorities about two weeks...
Click here to see photos
Street photography in Leeds, West Yorkshire. 2008 to 2017...
Loiner: Noun (plural loiners)
(UK, colloquial)
A citizen of Leeds, England
A collection of my photographs taken in the streets of Leeds over the past decade, as featured in the photobook 'Loiners'.
Click here for the gallery
...