Ref:
Date:
Location:
Photographer:
Ref:
Date:
Location:
Photographer:
All Weather Outdoor Event Photography
I specialise in photographing all types of outdoor events including hill walking, cycling, cycle sportive and sports challenge events for charity and corporate organisations.
The weather can be one of the biggest problems for the photographer to overcome in covering these events, especially those which take place in mountain environments. However my 20 years experience of walking, climbing and mountaineering, and my friendly and reassuring interaction with your participants and organisers will ensure the best possible photographs, no matter how bad the weather; from horizontal rain at midnight on the summit of Snowdon, to sleet snow and mist on the summit plateau of Ben Nevis. Obviously when the sun is shining, photos will be even better.
Whether you need publicity or public relations ( PR ) images, or an audio visual slide show documentary of your event, I will tailor my approach to suit.
Please
contact me
to discuss your requirements.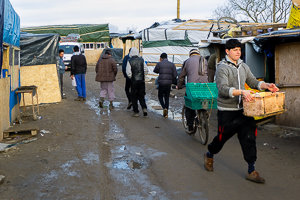 Photos taken in and around the Calais migrant camp, commonly known as The Jungle.
Most of the images were taken in the southern half of the camp which was demolished by the authorities about two weeks...
Click here to see photos
Street photography in Leeds, West Yorkshire. 2008 to 2017...
Loiner: Noun (plural loiners)
(UK, colloquial)
A citizen of Leeds, England
A collection of my photographs taken in the streets of Leeds over the past decade, as featured in the photobook 'Loiners'.
Click here for the gallery
...